In this lesson, you will learn 8 English idioms and phrases related to colours.
The list contains both British and American idioms, and for each one I give you the definition, meaning and origin as well as some examples of use.
Out of the blue
When something happens out of the blue, it is unexpected. It is a big surprise.
If Mark suddenly quits smoking and nobody was expecting it, we say: "Mark quit smoking out of the blue."
Example:
Jane: "Where did David go?"
Mark: "I don't know. He just left out of the blue."
Once in a blue moon
This is an adverb phrase of frequency. It descibes an event that happens very rarely. An event that does NOT happen often.
The origin of the expression is that an actual blue moon in the sky is very rare. It occurs approximately once every 3 years.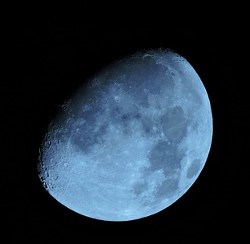 Example:
Mark lives in New York so I only see him once in a blue moon.
Private online English lessons

All teachers are native English speakers (British or American)
Several years teaching experience.
Thousands of hours of online teaching experience
Prices start from only $10 an hour
to black out
= to suddenly lose consciousness.
= to suddenly faint.
Example:
Doctor: "What happened?"
David: "He drank 5 glasses of whisky and then he blacked out."
Grey area
= a situation that is NOT clear.
= a situation where the rules are NOT well defined.
Example:
Student: "Sir, are students allowed to bring mobile phones into the classroom?"
Teacher: "Well it's a grey area. It depends on the reasons."
White lie
A lie is when we say something that is NOT true. A white lie is a small unimportant lie that we say to perhaps try to be polite or diplomatic. We tell a white lie so as not to offend someone, for example.
Mark: "Do you like my hat ?"
Jane: "Yes, you look very handsome."
(In reality, Jane does NOT like Mark's hat. Jane is telling a white lie!)
Green with envy
= to really want something that someone else has.
= to be very envious of someone.
"Envy" is the noun and "envious" is the adjective.
Example:
Mark: "Do you like my new car?"
David: "Yes, it's very nice. I'm green with envy."
to give the green light
= to give permission for something to start.
The origin of this idiom is the green light of a traffic light. The green light on a traffic light indicates that you have permission to start or go.
Examples:
Only the CEO can give the green light to start recruitment.
The government has given the green light for the new hospital.
Green fingers
= Someone with green fingers is good at gardening.
Example:
Mark: "Your garden is beautiful. You really have green fingers!"
Green thumb
= Someone with a green thumb is good at gardening.
This is the American English version.
Example:
Jane: "I love your garden. You really have a green thumb!"
Idioms and phrases about colours – Video lesson
Listen to the correction pronunciation in this video lesson on our YouTube channel.