The verb "break" is a common verb in English.
Pronunciation: /breɪk/
Form
present simple:
I break
you break
he / she / it breaks
we break
you break
they break
"break" is an irregular verb. It has an irregular past form and past participle as follows:
past participle: broken
past form: broke
Meaning of break
"break" when not used in an expression has 2 common meanings:
Common meaning 1:
= to cause something to separate into several pieces.
Example:
Jane broke the plate.
Common meaning 2:
= to cause something to stop working because it's damaged. If something is not functioning properly, it is broken. Something can therefore be broken even if it's not physically separated into several pieces.
Example:
He has broken his computer.
Expressions with "break"
In this section, you will learn the following 7 expressions with "break":
break the law
break the ice
break up
break in
break even
break a promise
take a break
to break the law
Meaning:
= to do something illegal.
= to do something that is against the law.
= to commit a crime.
Examples:
He was arrested because he was breaking the law.
Judge: If you break the law again, you'll go to prison.
break the ice
Meaning:
"break the ice" means to do something or say something to make people feel relaxed and comfortable when you meet them for the first time.
Examples:
It is the first day of school. The teacher sees that the students are nervous.
Teacher: Before we start the lesson, let's play a game to break the ice.
At the start of the job interview, the manager broke the ice by telling a joke.
break up with someone
Meaning:
If a romantic relationship breaks up, the relationship ends.
Examples:
Jane: How is Mark?
Sarah: He never calls me. I'm going to break up with him.
David: How are your parents?
Jane: They have broken up. They were arguing all the time.
to break in (or into)
Meaning:
= to enter a building illegally to steal something
Example:
A thief broke into our house and stole the television.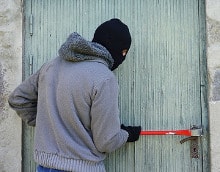 We often use the passive voice.
Example:
Our house has been broken into.
The noun associated with this phrasal verb is "break-in".
break-in (noun)
Meaning:
= The crime of entering a building illegally to steal something
Example:
There were lots of break-ins last night.
to break even
Meaning:
This is a financial expression. It means to have no profit or loss at the end of a business period.
Example 1:
Here are the accounts of a company:
Revenue in 2017: $50,000
Expenses in 2017: $50,000
Profit in 2017: $0
The company broke even in 2017.
Example 2:
Jane: I went to the casino last night.
Mark: How much did you win?
Jane: I didn't win or lose. I broke even.
to break a promise
Meaning:
= to not do what you promised to do.
Examples:
Politicians often break their promises.
Sarah has broken her promise to stop smoking.
to take a break
Meaning:
= to pause work temporarily to rest or to do something else.
Examples:
(During a meeting)
Manager: What time is it?
David: 1pm
Manager: Ok, let's take a break for lunch. We'll continue the meeting at 2pm.
David: I'm tired.
Jane: Take a break and get a cup of coffee.
More English lessons
English expressions that mean "annoy someone"
How to ask for permission politely
Irregular verbs in English
Private online English lessons
English lessons on YouTube