An idiom is an expression with a meaning that is different to the literal meaning of its words.
An idiom's real meaning is therefore different to its literal meaning.
In this lesson, you will learn 5 English expressions / idioms about feeling sad.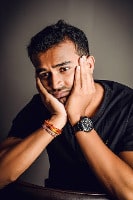 to be "down in the dumps"
Meaning:
to be sad and upset about something.
to be depressed.
Examples:
Why are you down in the dumps? What's wrong?
David seems down in the dumps today. Is he ok?
Mark is down in the dumps because he has failed his exams.
your heart sinks
Meaning:
to suddenly feel very disappointed and discouraged.
Examples:
My heart sank when Jane told me that she wants a divorce.
Jane's heart sank when she found out that she had lost her job.
His heart sank when he received the invoice for $20,000
The verb SINK is irregular. Here is its form:
past participle: sunk
past form: sank
Example using the past participle in the present perfect tense:
His heart has sunk.
to have a lump in one's throat
Meaning:
to have a tight feeling in one's throat because you are sad and emotional.
The real meaning is close to the literal meaning. Notice when you are very sad and you are almost crying, your throat hurts. Your throat feels very tight just before you start crying. Well that is the origin of this English expression.
Examples:
The film was very sad. I had a lump in my throat when the dog died.
I had a lump in my throat when she told me that she is ill.
David often has a lump in his throat when he thinks about the past.
to cry one's eyes out
Meaning:
to cry a lot
Examples:
I cried my eyes out at the funeral.
Mrs Smith cried her eyes out when her cat died.
Mark always cries his eyes out when he hears that song.
Conjugation of the verb CRY
present simple:
I cry
you cry
he / she cries
we cry
you cry
they cry
past participle: cried
past form: cried
to be very cut up about something
Meaning:
to be very sad and emotional about something.
Examples:
Jane is very cut up about her father's death.
Mark was very cut up about his mother's illness.
Other lessons
IELTS lessons, speaking practice and writing corrections
Prepositions of time IN, ON and AT
How to make polite requests in English
English idioms & expressions about sleep
8 idioms about colours
Video lesson
Watch more English video lessons on our YouTube channel.